Private Piano Lessons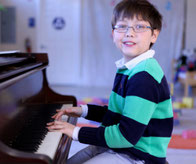 Private lessons meet once a week, except for the weeks of group class instruction. 
With every three private lessons, students will attend one group class to receive instructions on music theory, composition, improvisation, music appreciation, and ensemble.
Performance opportunities -
Students will participate in studio recitals twice a year.
There will also be performance opportunities outside of the studio. Parents and students may elect to take part in such events.
Recital Photos January 2016
Piano certification exam -
Parents and students may elect to take the annual piano certification exam with Music Teacher Association of California. Ms. Clara will prepare the students through the process of the certification exam.
If a student elects to take the certification exam, the student will need to designate study time in the summer for learning music theory with Ms. Clara.
Ms. Clara encourages all students to write music. She uses Composers Today curriculum from Music Teacher Association of California for teaching composition.
Student can elect to have their works entered in the MTAC evaluations to receive professional feedback.
Student sample composition is available for viewing & listening on the studio Facebook page. Look for Halloween pumpkin videos.
Please contact Ms. Clara for scheduling.
Thank you!